Best Photo Restoration .Com of Atlanta is a On Line Web Service. Send me a scan of a photo which you would like restored at 300 DPI.jpg . Also, you may to meet me at my studio near Emory in Atlanta, Georgia.I will look at Photos that you would like to have restored and give you an estimate. Personal Consultations are available at no charge, but are " By Appointment Only". Please view all Photo Restoration Galleries for examples of my work. The beautiful Photo shown below is of a Mother and Daughter and was saved with old Photo Restoration.As a Photo Restorer I take great pride in my photo editing services. Feel free to call with questions about your your photos, and what I may be able to do to help you. As a Photo editor and restorer I can bring your damaged photos back to life. Telephone 404 - 327 - 9777. I repair damaged photos and offer a complete picture restoration service.



PHOTO RESTORATION SAVES DAMAGED IMAGES AND PRESERVES MOMENTS WHICH ARE SO MEANINGFUL!




Beautiful Professional Photo Portrait Restoration

Photo Restoration brought this beautiful turn of the century Photo back to life.




Unknown Person Removed from Family Photo

In the Photo above,the client requested that an unknown person be removed from this Photo and that her Mother be moved to her Grandfathers arms.




Sisters Professional Photo Restoration

This wonderful small photo needed to have minor Professional Photo Restoration; small scratches and stains were removed. Also, for balance and composition I extended the shadow to left. I adjusted the contrast and removed the wheels at top right side of picture.Photo Restoration allowed this picture to be appreciated for a moment otherwise lost in time.




Photos Capture our Family History and Style

This 1920's photo was badly damaged and needed Professional Photo Restoration. Fortunately, enough of the image remained to rebuild this lovely image.
|Welcome|
|Gallery 1|
|Gallery 2|
|Gallery 3|
|Gallery 4|
|Gallery 5|
|DROP OFF|
|Testimonials|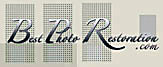 © bestphotorestoration.com 2005