HOW TO CLEAN FLOOD OR WATER DAMAGED PHOTOGRAPHS: At Atlanta Area Best Photo Restoration .Com, I am available to help by answering questions on how to care for damaged photos. As a Atlanta photo restorers I take great pride in sharing my knowledge with others.If you need help in knowing how to clean flood damaged photos , please call me. If you cannot repair damaged photographs right away there are techniques you can use to save them for photo restoration in the future.I have listed some of these techniques in the following paragraph. Hopefully, this information on cleaning and saving water damaged photos will be helpful. Call 404-327-9777



Photo Damage from Floods or Flooding leave us feeling helpless at saving images which mean so much to each of us . I clean Photos with damage from Mold by gently submersing and bathing them . If you cannot clean photos right away, freeze the images so that they can be salvaged at a later time . Immerse photos in tap water. Kodak Photo Flo may be added to the water to help in the cleaning process. Separate photos while they are wet. When photos dry they stick together and it is difficult to pull them apart. Do not run water directly on photos as this may lift the emulsion and cause further damage. Use a small soft (sable) art brush to remove debris. Remove photo from water and blot dry. To flatten and remove water from the photo, I place the photo image side down against a smooth glass surface or Ferrotype Plate ( purchase from photo supply store ). I use a window squeegee to gently stroke the back smooth and eliminate excess water. I hang the print to dry. I do this by running a string or wire back and forth and use paperclips (vinyl coated) to hang photo from corner. This process will keep your photos from continuing to decay from the mold. Once the photos have hung awhile you can use a flat print dryer ( also available from photo supply store ) to finish drying and flatten. Place Image face down on dryer plate. This process helps to get rid of mold and lengthens the life of the photo. It is time consuming , but well worth the effort. Remember to always wear gloves and a face mask when cleaning photos. At this point the photo is clean, and you can decide if the Photo needs image Restoration.Professional photo restorers,photo editors or photograph enhancement experts can help to rebuild otherwise lost images.




Photos are rich in information about who we are and our histories.We use the latest in photo restore software.

PHOTO RESTORATION MAKES A PERFECT GIFT FOR FAMILY, FRIENDS AND LOVED ONES!




Photos are rich in information about who we are and our histories.

Photo Restoration preserves such great memories! At times, only a small amount of photo enhancement or photo retouching is needed to bring back the photos original quality.




Below is a Old Photo Restoration of the Wildmere Hotel at Lake Minnewaska in New Paltz New York.



|Welcome|
|Gallery 1|
|Gallery 2|
|Gallery 3|
|Gallery 4|
|Gallery 5|
|DROP OFF|
|Testimonials|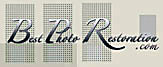 © bestphotorestoration.com 2005